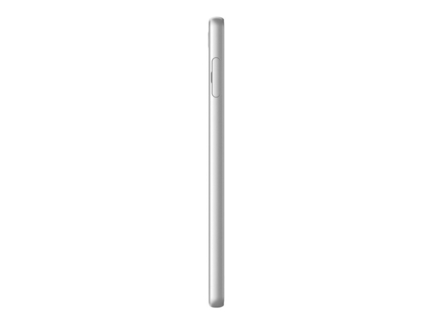 Sony XPERIA X
Sony XPERIA X - hvid
995,00 kr.
De mest værdifulde øjeblikke er ofte sværest at tage billeder af. Sony har gjort deres flagskibskamera hurtigere og smartere end nogensinde - med hurtigere reaktionstider og endnu mere intelligent fokus - så det bliver nemmere for dig at tage vellykkede billeder.
Xperia Xs Smart Capture-teknologi hjælper dig med at eliminere uskarpe billeder. Smart Capture, der er baseret på Sonys nye forudsigende hybride autofokus, gør det muligt at vælge en person eller en genstand og automatisk fastholde fokus. Nu forbliver dit motiv i fokus, selv når det flytter sig, og de mest uforudsigelige situationer resulterer i billeder, der er knivskarpe ned til mindste detalje.
Sonys hurtigste kamera til dato går fra standby til at optage på mindre end 0,6 sekunder. Hurtig opstart, lynhurtig hybrid autofokus og hurtigere billedbehandling gør det muligt at fastholde de mest spontane øjeblikke.
Det er ikke nemt at tage selfies i svag belysning, men Xperia X er skabt til den udfordring. Med 13 megapixel og Sonys berømte sensorer til svag belysning får du et frontkamera, der giver dig skarpe billeder hele døgnet rundt.
Xperia X gør indtryk med sin glatte metalbagside. Og med displayets afrundede glaskanter og den perfekte størrelse på 5" er den lige så behagelig at holde i hånden, som den er at kigge på.
Sony har designet Xperia X, så den passer perfekt til din hånd, dine rutiner og din smag. Sony har forbedret brugergrænsefladen, så den er mere intuitiv end nogensinde, og er gået videre med en form, der skiller sig ud med sin enkelhed.
Xperia X er udstyret med Sonys funktion til intelligent batteristyring, der giver dig op til to dages batteritid og en længere batterilevetid.
Det er altid ubelejligt, når telefonen løber tør for strøm. Uanset om du er midt i løbeturen eller deltager i en gruppechat. Xperia Xs maratonbatteri sikrer dig op til to dages strøm på hver opladning, så du kan fordybe dig i din yndlingsbeskæftigelse i længere tid. Udforsk mere, vær mere online, og slip for at tage opladeren med på weekendtur.
De fleste smartphonebatterier bliver hurtigt svagere, men med Xperia X får du Sonys længste batterilevetid. Den banebrydende Qnovo Adaptive Charging vedligeholder batteriet, mens det bliver opladet.

23 MP-kamera med forudsigende hybrid autofokus

13 MP-frontkamera til selfies i svag belysning

5" afrundet display i fuld HD

Op til to dages batteritid

Qualcomm Snapdragon 650, processor på 64-bit
| | |
| --- | --- |
| Produkttype | Smartphone |
| Producents modelnummer | F5121 |
| Formfaktor | Berøring |
| Integrerede Komponenter | Bagudvendende kamera, frontvendende kamera, FM-radio, stemmeoptager, navigation |
| Bredde | 69.4 mm |
| Dybde | 7.9 mm |
| Højde | 142.7 mm |
| Vægt | 153 g |
| Dækfarve | Grafitsort |
| Teknologi | WCDMA (UMTS) / GSM |
| Generation af mobilt bredbånd | 4G |
| Serviceudbyder | Ikke specificeret |
| Operativsystem | Android 6.0 (Marshmallow) |
| Navigation | A-GPS, GLONASS |
| SIM-korttype | Nano SIM |
| Input-enhed | Multi-touch, kapacitiv |
| Meddelelsesservice | SMS, MMS |
| Understøttet e-mail-protokoller | POP3, IMAP4 |
| Understøttede Sociale Netværk og Blogs | Twitter, Facebook, Google+ |
| Dataoverførsel | GPRS, EDGE, HSDPA, HSUPA, HSPA+, LTE |
| 2G-bånd | GSM 850/900/1800/1900 |
| 4G LTE Bånd | Bånd 1, Bånd 2, Bånd 3, Bånd 4, Bånd 5, Bånd 7, Bånd 8, Bånd 12, Bånd 17, Bånd 19, Bånd 20, Bånd 26, Bånd 28, Bånd 38, Bånd 40, Bånd 41 |
| 4G LTE-frekvens | FDD 2100, FDD 1900 PCS, FDD 1800+, FDD 1700 - 2110 AWS, FDD 850, FDD 2600, FDD 900, FDD 700a, FDD 700b, FDD 800 øvre, FDD 800 DD, FDD 850+, FDD 700 APT, TDD 2600, TDD 2300, TDD 2500 |
| Trådløs grænseflade | NFC, IEEE 802.11a/b/g/n/ac, Bluetooth 4.2 |
| WLAN sikkerhed | WEP, WPA, WPA2, TKIP, AES, EAP SIM, EAP-TTLS/MSCHAPv2, EAP-AKA, EAP-TLS, PEAPv0/EAP-MSCHAPv2, PEAPv1/EAP-GTC |
| Bluetooth profiler | HFP, HSP, OPP, PAN, SPP, A2DP, AVRCP, HID, PBAP, MAP, DIP, GATT, PXP |
| Telefonfunktioner | Telefonhøjttaler, opkaldstimer, konferenceopkald, flyvemodus, vibrerende alarm |
| Sensorere | Accelerationsmåler, lyssensor for omgivelser, proximity sensor, pedometer, 3-aksers gyrosensor, digitalkompas, barometer, gyro sensor, geomagnetisk sensor |
| Sikkerhedsenhed | Fingeraftrykslæser |
| Ekstra egenskaber | Radio Data Service (RDS), DLNA Certified, PlayStation certificeret, deling af medie via DLNA, Skærmbillede, Frontoplåsning, xLOUD teknologi, SensMe technology, intelligent indtastning (gestus), Wi-Fi Miracast, HD Voice, batteri STAMINA modus, Throw-funktion, OptiContrast-panel, TRILUMINOS-display, X-Reality motor |
| Digitale lydstandarder understøttet | WAV, AAC, PCM, Ogg Vorbis, AMR, MP3, FLAC, AAC-LC, XMF, AAC +, OGG, eAAC+, MIDI, M4A, apt-X, RTTTL, RTX |
| Supported Digital Video Standards | MKV, AVI, XviD, MPEG-4, 3GP, H.264, H.263, M4V, WebM |
| Type | Qualcomm MSM8956 |
| Clock-frekvens | 1.8 GHz |
| Antal processorkerner | 6-kerners |
| 64-bit arkitektur | Ja |
| Grafikaccelerator | Qualcomm ADRENO 510 |
| RAM | 3 GB |
| Intern hukommelseskapacitet | 32 GB |
| Brugerhukommelse | 20 GB |
| Understøttede Flash Hukommelses Kort | microSDHC, microSDXC - op til 200 GB |
| Sensoropløsning | 13 Megapixel |
| Objektivtype | Bredvinklet objektiv |
| Objektivblænder | F/2.0 |
| Videoopløsninger | 1920 x 1080 (1080p) |
| Sensoropløsning | 23 Megapixel |
| Sensornavn | Sony Exmor RS sensor |
| Objektivblænder | F/2.0 |
| Min. fokuslængde | 24 mm |
| Fokusjustering | Automatisk |
| Digitalt zoom | 8 |
| Selvtimerdisplay | Ja |
| Kameratilstande | Burst-tilstand, Red-Eye Reduction, Sweep Panorama, AR Effect-tilstand, SteadyShot, Timeshift burst |
| Ansigtsgenkendelse | Ansigtsdetektion, smillukker |
| HDR-tilstand | Auto HDR-tilstand |
| Hvidbalance | Automatisk |
| Lyskilde | LED lys |
| Videoopløsninger | 1920 x 1080 (1080p) |
| Funktioner | Autoeksponering, Superior Auto, G-objektiv, støjreduktion, bevægelsesdetektor |
| Type | LCD-skærm |
| Teknologi | IPS |
| Diagonal størrelse | 5" |
| Display opløsning | 1920 x 1080 pixel |
| Displayformat | Full HD |
| Farvedybde | 16,7 million farver |
| Beskyttelse | Ridseresistent glas |
| Forbindelsestype | Micro-USB - 5 pin Micro-USB Type B ¦ Hovedsætjack - 3,5 mm mini jack |
| Kapacitet | 2620 mAh |
| Run Time detaljer | Blandet brug: op til 48 timer |
| Overensstemmelsesstandarder | HAC (Hearing Aid Compatible) |
| Udstyr inkluderet | Datakabel, strømadapter |